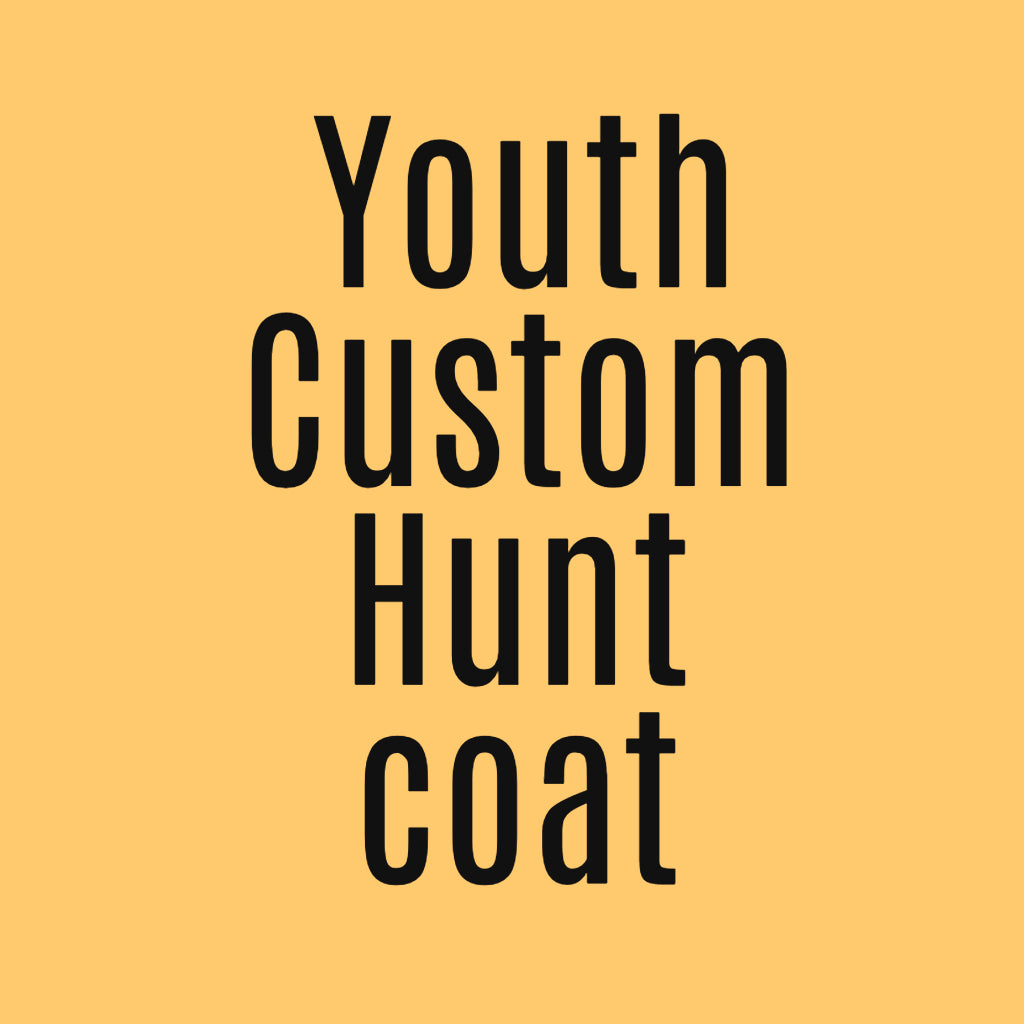 YOUTH Custom Hunt Coat
---
Size chart
Thank you for your interest in our custom made-to-measure clothing line. We take great pride in quality, fit and comfort for our customers. Below are the details if you are interested in exploring a Custom Hunt Coat, Custom Suit, Custom Western Shirt, Custom Hunt Shirt or Custom Vest.
Below is our Custom Order & Measurement Guide. To complete your custom order, we must have the Measurement Form Completely Filled out. We provide pictures to show you exactly where to measure and how.
The other piece of custom order is choosing your fabrics, trims and details. This can be done by:
-Viewing the Custom Order Swatches 
-Reaching out to our Design Team via Facebook or Email to begin to put your custom order together. We love to work with customer to make their visions a reality.
Once the Custom Packet & Measurement Guide is sent in and all of our selections have been made, we can start on your order. 
Many of your questions can be answered on our FAQ page available on our website. 
Check out our assortment of swatches for our custom designs
To browse our selection of custom order swatches, please click on the links below:
To Print and Fill Out our Custom Order Packet, Click the Link Below:
Our premium quality hunt coats are each handmade by our team of master tailors.  The design and ordering process is simple and the result is a tailored look that will allow you to express your individual style.  Our custom jackets and suits let you to achieve the perfect fit and customize your look. 
Our Custom Order Process is Simple
1. View our CUSTOM SWATCHES HERE
2. After you choose your jacket fabric and Accent Fabrics, Fill CUSTOM ORDER PACKET & MEASUREMENT GUIDE (This includes customer information, order details, measurement forms)
If you would like to work with our design team to help create the perfect look, email us at sales@customcollarsboutique.com, call us for an appointment at 615.504.8184 or send us a message on our facebook page.
We use luxurious wools, silks and blends from some of the finest fabric mills around the world.  Our hunt coats come in the traditional three buttoned front with two front pockets and double vented back.  Inside our coats, you will find our moisture wicking linings to keep you cool and comfortable while looking great.  Customers design all aspects of their custom outfit including fabric selection, buttons, lining, piping, trims and more.  Finally, your name is embroidered inside your custom jacket in the color of your choice.
Liquid error (snippets/image-element line 101): invalid url input